When your horse is a wonderful dressage partner, one with whom you have enjoyed years of dressage education, fun, and success, the retirement of that amazing equine can a difficult thing to accept, embrace, and enjoy.

Since the 2009 USDF Regional Championships, Jeddien has not competed. &nbsp Training continued, but with Piper coming along well in his training and two youngsters in the pipeline (including Jeddien's daughter!), it has been easier to accept that Jeddien is pushing 20 years old, struggles to maintain her girlish figure, and quite frankly has nothing else to prove in life.

And so, without planning, without any fanfare, Jeddien quietly retired from competition. &nbsp She still gets ridden occasionally, but no longer is she asked to try to work towards the next level, Prix Saint Georges. &nbsp She continues to go hacking, which she totally loves, and happily lets my dressage students have a feel of the upper level movements.




Surprisingly, and as a magical Swan Song for the old mare, Jeddien was accepted into the "Dressage Today" magazine's video clinic with Axel Steiner, "O" judge. &nbsp She is in the November 2010 issue, page 16. &nbsp The photo Mr. Steiner and his wife, professional photographer Terri Miller, critique is shown above. &nbsp I smile everytime I see it. &nbsp Carole MacDonald always seems to capture perfect snapshots!

Jeddien's History

Jeddien (Bustron x Uriant) was born in Holland June 21, 1991 on a small sheep farm. &nbsp She and her mother, Enia, were the only horses on the farm. &nbsp Interestingly, Jeddien truly hates sheepskin touching her body, squealing and kicking out at it. &nbsp I'm sure there's quite a story there....

With the help of Frits Donderwinkel, I imported Jeddien into the UK in March 1994 after viewing two videos of her. &nbsp She passed the vet check and I purchased her for a mere 5500 UK pounds, about $8000. &nbsp I started her and trained her. &nbsp We competed and won together in the UK through Advanced Medium Level. &nbsp We qualified for the Regional Championships, both Summer and Winter Seasons, nearly every year and competed at Medium Level Restricted and Medium Elite at the Winter Championships at Solihull. &nbsp When my husband and I moved to the USA in 2005, Jeddien came with us, as did Piper Warrior.

In the UK, Jeddien and I trained with Robert Pickles, FBHS. &nbsp We attended clinics with Christine Stuckleberger and Jan Nivelle for dressage, a Parelli UK instructor, and Tim Stockdale for showjumping. &nbsp Yes! &nbsp Showjumping. &nbsp In one competition at Merrist Wood College, Jeddien earned a double clear ribbon on her first time out over a colored course! &nbsp She loves to jump!

Once Jeddien understood what was expected, she won the majority of the competitions in which she was entered. &nbsp She even had her photo in UK's "Horse and Hound" magazine twice! &nbsp In her final show at the 2009 USDF Region 8 Championships, she walked away with two 3rd Level Reserve Championship titles!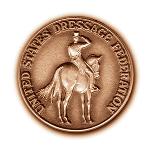 In 2006, Jeddien gave birth to a stunning little chestnut filly who was sporting four even white socks! &nbsp Born with legwraps on! &nbsp Bea Yewtee is by the late "Da Vinci", a gorgeous gray FEI stallion who stood at Cornell University in his later years.

It was a year later that Jeddien first competed in the USA, starting at 3rd Level, then 4th, and for one weekend, 1st and 2nd, and only then so I could earn my USDF Bronze Medal. &nbsp In 2007, 2008, and 2009, she competed in the USDF Region 8 Championships at 3rd Level Open / Professional, coming 3rd, 7th, and Reserve Champion respectively.

Jeddien was also the very first horse several riders ever rode, including my husband who went on to train at a British Horse Society approved Riding Center in the UK. &nbsp Jeddien is thoughtful and careful with all new riders and has been the source of a lot of smiles. &nbsp Most recently, she let a first time young rider invent his own game of equestrian soccer where they, together, scored goals with her big Parelli ball. &nbsp He thought it was much more fun than doing 20 meter circles at the walk!

The Future

So now, the plan is simple. &nbsp We will continue to ensure Jeddien enjoys her life, well into her senior years, on our horse farm in New Hampshire. &nbsp She will continue to be pastured in the daytime with her little gang of geldings and stabled indoors in the evenings. &nbsp She will, of course, continue to run up vet bills, dental bills, saddle fitting bills, and farrier bills. &nbsp It's a good life, an easy life, and one which she enjoys.

Nope, there was no retirement party for Jeddien. &nbsp But some fellow competitors have commented to me about her absence from the show ring... &nbsp Relief, maybe? &nbsp I like to think so. &nbsp :-)

Jeddien is a wonderful unique character, a true chestnut mare, a real star and prima donna dressage queen, and my Horse of a Lifetime! &nbsp As Axel Steiner put it, I have been blessed to have such a willing and generous equine partner! &nbsp She is also a beloved member of our family, now and always.