And so it all begins once again. A new year. And with it, thoughts about new goals.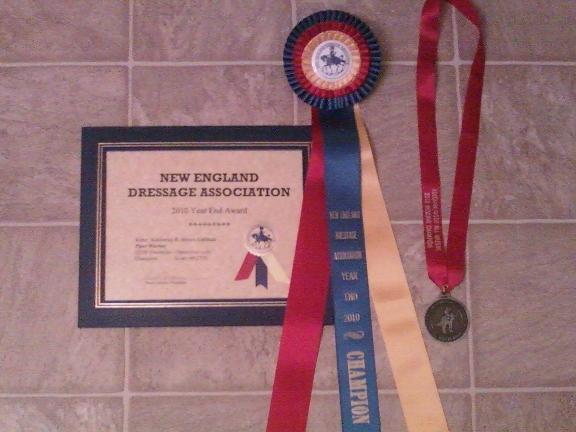 By the end of 2010, Piper Warrior and I had achieved our 2010 dressage goals, and then some. We made it to the 2010 USDF Region 8 Championships in 3 categories! And we finished 2010 with several National & New England Dressage Association (NEDA) year end awards, including:

Champion - NEDA Year End Award, USDF Freestyles
Champion - Top Scoring KWPN Dutch WB at the NEDA Fall Festival / USDF Region 8 Championships
Reserve Champion - USDF All Breeds, KWPN First Level Freestyles, Vintage Rider
3rd Place - USDF All Breeds, KWPN First Level, Vintage Rider
3rd Place - USDF All Breeds, KWPN Training Level, Vintage Rider
4th Place - USDF Region 8 First Level Freestyle Championships
Multiple High Score of the Day show awards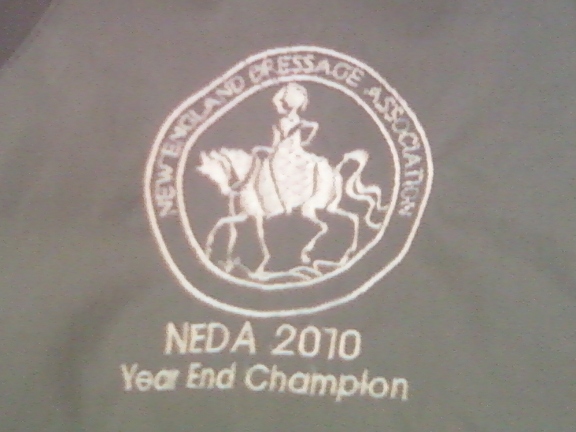 The 2010 NEDA Year End Championship for USDF Freestyles came with a massive championship ribbon and a gorgeous embroidered Mountain Horse jacket. Very nice!

For the USDF All Breeds KWPN Reserve Championship title, we received a really nice 2 1/2 inch USDF silver medal on a red ribbon. That was quite a surprise. Now that I know about them, I'd like to earn some more All Breeds medals! Gold would be nice....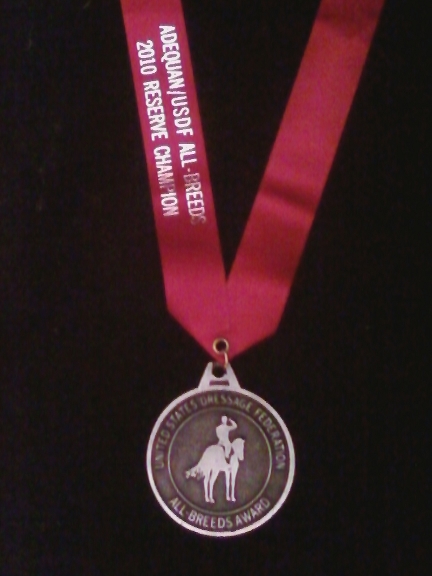 Looking at Piper this morning, it is a little difficult to imagine the woolly black warmblood will be ready to compete again in four months time, but that is part of this year's game plan. Well, that's only if he does not sell before then. (Click here to view Piper's online for sale ad.)

And the plan for Big Ben is for him to enjoy lots of dressage arena time before he is sold. (Click here to view Ben's online for sale ad.)

For another youngster in our barn, Jeddien's daughter Bea, training begins in earnest this year.

And finally, we have a number of students who will be competing this year, training for and pursuing their own riding & competition goals. Whether their goal is to perfect 20 meter circles at home, develop a more confident trail horse, have a few enjoyable outtings with their horse, or compete in the 2011 USDF Regional Championships, we'll have fun working on progress and success together.

Today, January 1st, 2011, it is a whooping 55 degrees outside!!!! Our woolly horses are outside, rolling in the melting snow, and enjoying a sneak preview of weather not meant to arrive in New Hampshire for another few months. It's all a bit surreal.

So, for now : Happy New Year, Everyone!