I just returned from GMHA's June three day USDF dressage show in South Woodstock, Vermont. As usual, the show was extremely well run and the weather was hot & sultry.

Day One - One Qualifying Score

Contesting qualifier classes only, Piper was entered into Training Level Test 4 and was making his First Level debut with Test 4. &nbsp Our first ride was the First Level test. At home, we've run through the test a few times, with varying success. Piper has not yet experienced "the light bulb moment" when it comes to lengthening the stride at trot. Instead of slowing the tempo and lengthening the stride with more air time, he can still get a bit rushed. But it is getting better slowly.

And canter lengthenings we only started training recently. He does lengthen, but the challenge is in getting him back to the working canter! And of course, the counter canter loop to and from X is still a new movement for him, testing his suppleness, balance, and obedience. Coming straight after the lengthening, he tends to bring too much blood into the counter canter movements. Sticking a 15 metre circle between the two movements would help recollect him mentally as well as physically. (Something to remember when I start to design his freestyle!)

So, with First Level Test 4 being our first ride of the show, I rode with as much care as I could muster. And Piper performed well, and much to my delight, completely spook free! His debut earned him 65.789% or 250 points. Fabulous. &nbsp And rather overachieving on the 58% target score needed to sign up for our First Level Freestyles. &nbsp But maybe best of all was his complete confidence approaching the judges booth!

Riding Training Level Test 4 a couple hours later, the pressure was on to nail a qualifying score of 68%. But knowing how well he did earlier in the day at the more difficult level, I entered the ring with confidence. Together, we did a really nicely flowing test and earned 70.8%. Success and we are half way to the USDF Region 8 Training Level Open Championships!

And, to boot, we earned High Point of the Day at Training Level Open and a gorgeous huge ribbon!

Day 2 - One Point

Piper spent the night in GMHA's newly renovated stables. &nbsp Very well rebuilt. &nbsp Our rides were later in the day, with Training Level first. &nbsp It was hot. &nbsp We were both a bit tired. &nbsp And my brain was baking in my heavy duty, but safe show helmet.

We earned 68% at Training Level Test 4 and another 65.789% at First Level Test 4. &nbsp The first test went well. &nbsp However, in the second test, Piper decided to throw in a flying change at X during the counter canter loop! &nbsp I brought him back to trot and picked up the correct canter lead again before the next movement.... &nbsp which was... &nbsp what?

Sure enough, I went off course. &nbsp Usually, if I go off course, it is after a major disruption to the test. &nbsp A big spook, a break in gait, a buck, or some other distraction. &nbsp This was no expection. &nbsp And so, 2 points were forfeited for going off course. &nbsp Ugh. Again, 250 points earned. &nbsp 251 points would have pushed us over the 66% qualifier score! You can't get closer than that!

The Accident - One Second

I really wanted one more shot at trying for the elusive 66% qualifying score at First Level. &nbsp While there were no scratches yet for Sunday, I suspected the predicted thunderstorms would cause at least one scratch. &nbsp So, I decided to keep Piper at GMHA another night and see what happened. &nbsp But first, I wanted to call home and see if that was okay....

GMHA does not receive mobile phone service. &nbsp So, I hopped in the truck (sans trailer) and headed to town. &nbsp As I approached a narrow bridge on Rt 106, I saw another bigger cargo truck coming from the other direction. &nbsp I backed off the accelerator as I approached, as I don't like sharing this bridge. &nbsp And thank goodness!

The front right corner of the truck struck the cement bridge wall, HARD, causing the rear of the truck to swing into my lane, right into my path. &nbsp Then, the truck fell onto its side and continued sliding towards me!

I slammed on the brakes and started backing up as the truck continued to slide. &nbsp The driver of the little car behind me, thankfully not tailgating, saw what was happening, stopped and backed up as well.

When everything came to a stop, the truck driver, bleeding from his forehead, crawled out of his rig. &nbsp Other road users soon arrived and went back to the little country store up the road to call 911. &nbsp I gave the driver the flannel pillowcase cover off my naptime pillow to hold against his wound. &nbsp Ambulance, fire, and police all soon arrived, tending to the driver, inspecting the situation, diverting traffic, and collecting statements. &nbsp The incident was very scary and left me thinking how a difference of one second could have spelled disaster for me.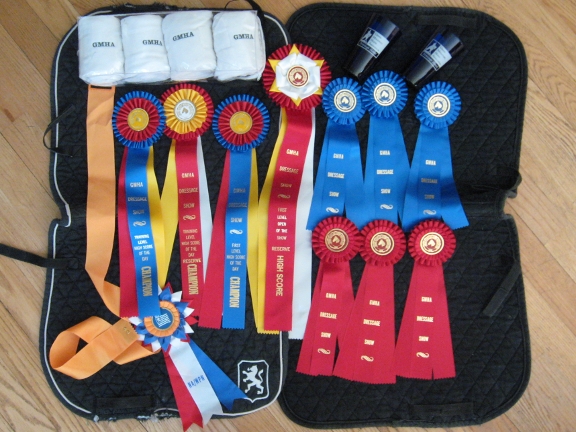 Day 3 - One More Time

Sunday morning, an opening appeared in the First Level Test 4 class. &nbsp First on the wait list, I got it. &nbsp I rode the test like a woman with a renewed appreciation for life! &nbsp 264 points, 69.474% and our first qualifier score for First Level.

We rode Training Level Test 4 one more time, just for grins. &nbsp We won the class with a high 60's score again. &nbsp Day 3's rides earned us the Reserve High Point at Training Level and High Point at First Level, both for the Open Division.

As the show wound down to a close, we learned that we won Reserve Champion for First Level Open for the 3 days. &nbsp A massive ribbon! &nbsp And Piper was the show's High Score Champion for KWPN Dutch Warmbloods, for which we earned an orange sashed ribbon!

Wrap Up

Piper was really on his best behaviour this weekend! &nbsp I was thrilled with the results. &nbsp I doubt we'll ever see such a successful show like this one ever again. &nbsp It was truly a unique experience!