For many dressage riders in New England, the NEDA Omnibus is a much beloved possession. &nbsp The little black book. &nbsp The season's bible. &nbsp The favorite bathroom read.

Email and facebook notifications recently went out saying that the Omnibus Prize Lists were in the mail. &nbsp Yippee! &nbsp And as they arrive, the dormant competition itch will spring back to life, and with it, the need to put together our 2011 competition calendar and schedule of dressage activities.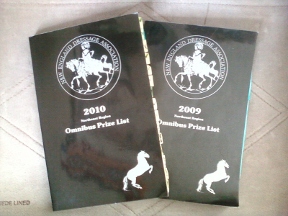 Each year, I get at least two little black books. &nbsp One as a member of NEDA, the New England Dressage Association. &nbsp The other as an advertiser in the book. &nbsp One copy will travel in my "Horse Show Briefcase", the other will move from room to room in the house.

So what makes this little book so important, so revered amongst the mountain of dressage & equine books in my library? &nbsp Timely content specific to the dressage competition season. &nbsp Aside from prize lists from each of the USDF Recognized dressage competitions in New York and the New Engand states, it provides the USDF & USEF Dressage tests (our USA national tests), all of which were redesigned for 2011 through 2014, movement requirements for dressage musical freestyles per level, information about how to qualify for NEDA Year End Awards, and lots of ads by local professional trainers & training barns.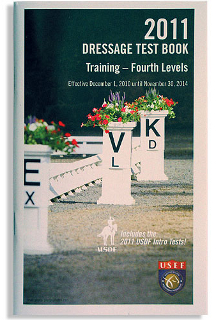 NEDA members who are new to dressage will also find lots of basic USDF rules information. &nbsp Reading the USEF Dressage Rulebook is still highly advised, but the Omnibus provides a good quick start. &nbsp They will also find listings of some of the local Schooling Dressage Shows.

Another great tool for the dressage enthusiast / competitor / trainer is the new 2011 USEF Dressage Test Book. &nbsp With the new tests now in use, getting to grips with them as early as possible is a wise thing, especially for those of us who have a tendency to sometimes go off course. &nbsp The new book contains the new USDF Introductory Level Tests and the new USEF tests for First through Fourth Levels. &nbsp Unlike the 2007 through 2011 version, the new booklet has a cool cover. &nbsp Like the older version, the price is still only $5.00 plus shipping when purchased via the USEF using this order form. &nbsp And it is still only 4 x 7 inches in size, which means it can go straight into the coat pocket for reference while riding!

So, for the moment, I sit here waiting for the postman to arrive. &nbsp In the meantime, my competition horses are scheduled to get their required Coggins tests for 2011 as well as their spring vaccinations which will help protect them from disease as we travel around the region. &nbsp We are getting back into serious goal minded work. &nbsp And if winter insists on keeping its grip on us much longer, the clippers may be put to use very soon.