In New Hampshire, we are still gazing at snowbanks of fairly impressive but slowly diminishing height and striped pastures of alternating areas of mud and melting snow. &nbsp We're a few weeks away from the start of green springtime, but competition season is approaching none-the-less! &nbsp So for me, this is the perfect time to put together my ....
The Horse Show Binder
I've come to believe preparing ahead of time to send off entries in an orderly fashion makes life so much easier in the long run. &nbsp For each horse I plan to compete, I fill out one entry form with all but the show name, show date, and actual classes entered. &nbsp As required, I ensure each line of "Rider", "Owner" and "Trainer" have my details shown in full. &nbsp No dittos or "same" allowed! &nbsp When each entry form is done, I make about 10 copies per horse. &nbsp This goes into the HSB.

For each horse, the HSB also contains sections for:

Multiple copies of the KWPN registration papers

Multiple printouts of USEF & USDF memberships

Multiple copies of the Coggins / EIA test results

Multiple copies of a dressage test showing qualification to ride in Freestyles

Other sections of the HSB include:
Laminated horse show checklists, used when packing the trailer & truck both to and from shows

Copies of entries sent in to the various show secretaries. &nbsp So far, I've only had to refer to them to remember which horse was going to be doing what, when, and where! &nbsp &nbsp :-)

Printouts of ride times

Printouts of scores & results earned

The HSB seems to grow and evolve over time, but proves its worth each year!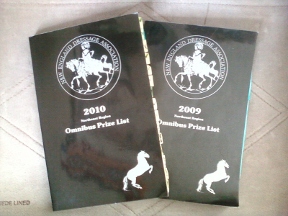 Read Each Show's Entry Requirements
While nearly all the USDF Region 8 shows listed in the NEDA Omnibus Prize List (aka the Little Black Book) use the entry form included in the distribution of the book and also posted here in pdf format on the NEDA website, not all shows do. &nbsp Some shows have their own entry forms. &nbsp Reading the fine print in each prize list is critical to sending in a perfect entry form and avoiding disappointment in not getting accepted into the show.
Know the Key Dates
Each dressage competition has unique dates for acceptance of entries, also known as the Opening and Closing dates for entries. &nbsp Some shows open entries months in advance, some only a few weeks in advance. &nbsp Keeping track of these can be key to getting your entry accepted before the show fills up!
My first year back in the USA after 12 years in England, I learned that the USDF does NOT send congratulatory letters to riders who have qualified for the Regionals the way British Dressage did. &nbsp So, while waiting for my letter and invitation to arrive in 2007 when Jeddien and I first qualified for the 3rd Level Open championships, I missed the "entry window" for the championships! &nbsp Fortunately, I still got my entry in before the final closing date! &nbsp Phew! &nbsp Lesson learned!
For those aiming for the USDF Region 8 Championships, keep these key dates in mind!
Championship Qualification Dates: August 17, 2010 to August 15, 20

Fall Festival Entry Dates: July 18, 2011 - August 15, 2011

Championship Entry Window: July 18, 2011 - July 23, 2011 &nbsp (The 6 days when only the entries of horse / rider combinations who are riding in championship classes are fully processed - including open classes - and given priority!)

Using good calendar management tools can really help plan and manage the dressage competition year!