With more and more competition experience, dressage riders eventually start to encounter the same judges over and over. &nbsp In the UK, this was certainly very true, as the judges don't often travel far to judge the 1 or 2 classes they would judge at a given show. &nbsp In the USA, however, there are several big differences.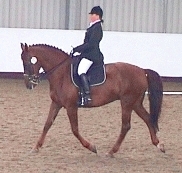 First, judges are paid big bucks to do their job, plus hotel, airfare, and other expenses in the USA. In the UK, this is not the case.... yet. &nbsp Judging is more about "giving back to the sport".

In the USA, judges usually work a long day, judging ALL of the classes in a given arena, some of which will only have 1 or 2 riders in them. &nbsp UK judges don't often do that. &nbsp Instead, they usually judge 1 class, but that 1 class might be huge and run all day!

Show managers in the USA publish the names of the judges for their shows well in advance of Opening Entry Day. &nbsp In the UK, the rider often finds out who is judging when they see the scoreboard.

And finally, in the USA, show managers work hard to try to bring in different judges than those being used at other local shows.

However, even with these differences, American dressage competitors will eventually run into the same judges again & again. &nbsp What I find interesting is that some competitors decide which competitions to enter based on who will be judging. &nbsp Preference would be for a judge from whom they once got a good score. &nbsp Or maybe a judge who may be known as being more "generous". &nbsp Or someone who prefers their horse's breed.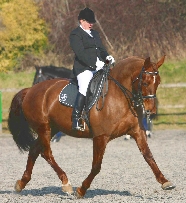 Amazing to me, some riders will even adjust their riding based on who's judging. &nbsp Now, this is where I am a complete novice! &nbsp I have yet to establish a mental database of how to ride for a specific judge.... &nbsp other than my husband!

Georg's excellent dressage eye was developed by attending hours of clinics and lessons with Robert Pickles (Fellow of the British Horse Society and my UK Dressage Coach), Christine Stuckleberger of Switzerland, and Jan Nivelle of Germany. &nbsp He is my top critic, keeps me honest, and demands to see consistent and correct dressage work.

No, I do not change my tests depending on who is sitting at "C". &nbsp Or another position, for that matter! &nbsp Geez, I wouldn't even know where to start. &nbsp At the end of each test, Georg gives me a score and a bit of critique. &nbsp And that, for me, is the feedback which means the most.