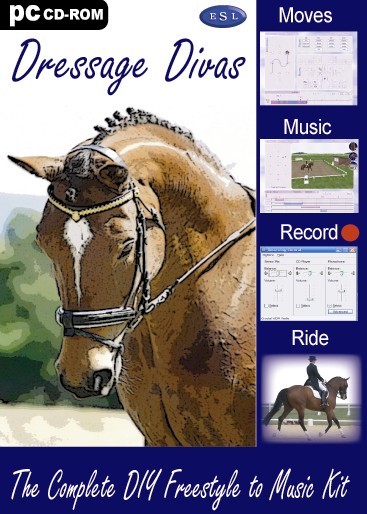 In October 2003, I submitted to British Dressage the details of my first Dressage Kur or Musical Freestyle. &nbsp The music selected was from a collection of German folk songs and fit Jeddien quite nicely. &nbsp However, I never actually rode the Kur in a competition.

Five and a half years later, I'm now FINALLY planning to ride my first Kur. &nbsp Ever. &nbsp (Not counting Quadrilles.) &nbsp But imagine my surprise when during a practice run I found Jeddien's gaits and paces no longer match the music! &nbsp Her tempo has slowed just a tad with time & dressage training. &nbsp So now I need to "stretch" her music or redo it all together. &nbsp Hmmmphf!

While browsing the web, I discovered that Equitech Software in the UK has provided the dressage world with a great little software package called "Dressage Divas".

I purchased the package from the USDF (click on the image to go straight to the USDF store!) and am now playing with it. &nbsp Looks like a good software package. &nbsp So, we are back in business and looking forward to our Kur debut in 2009!

There's no business like show business, like no business I know....